NORFOLK – The Northeast Community College volleyball team was swept by Iowa Western Community here last night (25-15, 25-10, 25-22).
Elizabeth Selting led the Hawks in kills with eight. Taylor Lammers put up two blocks, while Monique Schafer, Peyton Roach and Delaney Belt each had one ace serve. Roach led digs with 12, and Belt had ten. Savannah Nelson tallied 18 assists.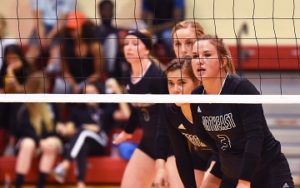 Undefeated Iowa Western is currently ranked second in the National Junior College Athletic Association (NJCAA) Division I poll. Northeast is a Division II team.
The Hawks (10-8) are back in action tonight when they host Southwestern Community College at the Cox Activities Center on the Norfolk campus at 7 p.m.