Taylor Shepard has been named the new Head Girls Basketball Coach at West Point-Beemer. Shepard, who spent 3 years as an assistant at Elkhorn South, comes from a big basketball family. "I've got a sister Jess who just won a National Championship for Women's Basketball at Notre Dame. I have a younger brother Clayton, who's in his first year of coaching this year. He was at Fremont, and then he'll be moving to Cedar Bluffs. And then I have 3 younger sisters. One…Samantha, she'll be going to Midland next year to play basketball with Amanda Hansen. And then I have two younger sisters in high school. In addition to that, my Dad coached in high school, my Grandpa's in the Nebraska Hall of Fame. I've got a couple other Uncles, my Uncle Scott actually used to be in West Point as the Principal here. And so obviously a lot of basketball ties…I've been watching it and playing it since I was about 3 years old."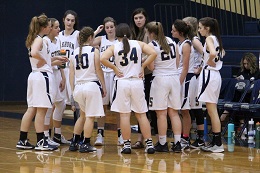 Shepard played college basketball at Midland for 3 years after transferring from Minnesota State-Moorhead.
Shepard takes over for Craig Theis, who accepted the Elementary Principal Job at Boone Central. Shepard says she looks to build off the success Theis had, plus establish and develop an inside game. "Yeah I think we've got a lot of good talent, young talent coming back. I know Sidney Swanson as a freshman really stepped up a lot last year. And I'm excited to see what she can do. I know we've got a lot of leadership with some of our older girls so I'm excited to see where I can help take them. I think one of the biggest things and strengths that I bring to the table is I do have a lot of post experience. And I'd like to really continue to work and develop that. I think Coach Theis did a nice job really looking to push the ball offensively. His guard work was awesome this last year. And so if I can build a little bit of a post game then we'll be a lot more well rounded."
The Cadets welcome Conestoga transfer Sierra Kile, a 5'8 post player who averaged 19 points a game for the Cougars last season. Kile is the daughter of former Conestoga Head Girls Basketball Coach Jahn Kile, who will be an assistant boys basketball coach at West Point-Beemer next year.
The Nebraska School Activities Association is going to a sub-state format for Classes C1 through D-2 in Boys and Girls Basketball. Shepard says she has experience coaching a sub-state game, which has an added dynamic. "Yeah absolutely. I know Class B we went to the sub-state this year. So at Elkhorn South we had the opportunity to do that. One through sixteen gets paired up, and it's win or go home. So I think that really adds a little bit more importance to those district final games with that sub-state."
Shepard says Elkhorn South qualified for state in all 3 years she was an assistant there, and won a state title her first year there.