KEARNEY – University of Nebraska at Kearney Chancellor Doug Kristensen today outlined proposed budget cuts that exceed $3.4 million, and affect 38 positions across nearly every campus unit.
Men's baseball, golf and tennis will be eliminated. Position eliminations comprise 16 faculty, 2.5 administrative, and 16.5 staff positions. Three affected staff positions will shift to the University of Nebraska system as part of the budget response team process.
 "The magnitude of these cuts is unprecedented, considering they represent a nearly 5 percent reduction in UNK's operating budget and employee workforce," Kristensen said.
UNK's budget gap of $3.4 million is the result of decreased state appropriations, declining credit hour production, and scheduled salary and benefit increases.
 "The fact that we developed these recommendations collaboratively across campus doesn't lessen the negative impact on faculty, staff and students, and for Nebraskans," Kristensen said.
The campus has been guided by its strategic plan and identified reductions through a hiring freeze, college and departmental mergers, and by engaging the campus in a comprehensive review of all units, functions, programs, staffing, and enrollment trends, he said.
 "We have tightened our belts for years, but the current situation has required a more strategic approach to protect academic quality and core campus functions and services," Kristensen said.
The budget reductions were presented to a forum of faculty, staff and students on campus today. The administration will now receive feedback from faculty and staff to formulate final budget reductions that will become effective July 1.
The recommendations outlined today by Kristensen included reductions in administration and support staff ($837,000), faculty ($1,551,872), operations personnel ($829,475), and athletics ($450,000). The total proposed is $3.67 million.
The 16 recommended faculty reductions come from UNK's four colleges and the library. Specific positions have been identified, but could change following additional input from faculty and deans.
 "Faculty reductions result in lost teaching capacity, with fewer course sections and larger class sizes, and also impact student academic and career advising," Kristensen said. The eliminated positions are vacant or are identified for vacancy soon because of planned retirements or reorganization. Kristensen said regardless of whether a reduced position is associated with an existing person, "these are needed jobs that once eliminated have real and permanent impact."
Administrative reductions will result from a merger of the colleges of Fine Arts and Humanities and Natural and Social Sciences into a new College of Arts and Sciences. In 2017 Chancellor Kristensen announced a process to merge the colleges. The new alignment involves collaborative restructuring involving faculty and leadership in the two existing colleges.
Once approved by the Board of Regents and fully implemented, the new college structure will result in the elimination of the positions of a dean, associate dean, and administrative support position. The college proposal could be ready for presentation to the Regents this summer.
The announcement of the elimination of men's golf and tennis, and baseball, was discussed at the forum, and student-athletes, staff and other stakeholders were informed today of the decision.
 "Sport elimination is particularly difficult because it directly impacts 56 student athletes and 10 incoming freshmen," Kristensen said. Title IX compliance prohibited consideration of eliminating a women's sport, and the MIAA conference requires sponsorship of football and basketball. Further analyzed as part of the decision were budget and costs, facilities, travel cost, and climate-related challenges to scheduling home competitions, Kristensen said.
UNK Director of Athletics Paul Plinske said student-athletes' scholarships will be honored through their remaining eligibility, and UNK will support the athletes in their efforts to find new teams and transfer if they desire. Additionally, the swimming pool in Cushing Coliseum will be closed, resulting in savings of $56,000 annually.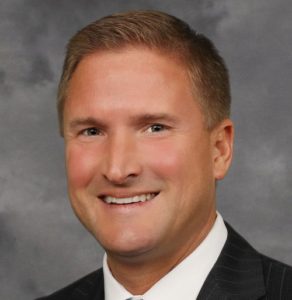 UNK Director of Athletics Paul Plinske
 "While the budget constraints faced by the university are unprecedented, we will continue to protect quality academic programs and core functions and keep our tuition affordable for students and families," Kristensen said.
UNK has approximately 814 benefit-eligible employees. Of those, 471 are considered staff (includes administration, office, service and managerial professional employees) and 343 are faculty (special appointment lecturers, tenure-track faculty, tenured faculty and deans).
More detail on the budget is outlined below. (The salary savings listed include the benefit costs associated with the positions):
Administrative Reductions via Academic College and Functional Mergers—$480,573
 The merger of the Colleges of Fine Arts and Humanities and Natural and Social Sciences to form a new College of Arts and Sciences will generate substantial savings with the elimination of a Dean ($184,807), Associate Dean ($47,872), Associate Dean stipend ($5,831), Associate Dean salary savings ($16,175), and an Administrative Associate ($71,833).
The Senior Vice Chancellor for Academic and Student Affairs will also eliminate the Assistant SVCASA/Director of Institutional Research position ($154,053), moving from a three-person to a two-person unit.
Chancellor/Athletics Reductions—$450,000
Baseball, Men's Tennis, and Men's Golf programs will be eliminated, including operational budgets and salary lines.
Three sport reductions will affect 56 athletes and institutional priority goals of enrollment, out-of-state and diversity enrollment. Factors analyzed included Title IX implications, conference required programs (football and basketball) program costs, cost/revenue per athlete, travel costs, and challenges to scheduling home competitions based on climate/geography.
Academic Support Reductions—$312,464
Efficiencies in the Colleges of Business and Technology and Natural and Social Sciences will result in the elimination of 2.5 office associate positions. As a part of the NU system's merger of campus-based technology units into OneIT, one Workstation Support Specialist position will be eliminated in the College of Education and one in Natural and Social Sciences.
Faculty Reductions—$1,551,872
Faculty positions to be eliminated were identified based on strategic criteria including number of majors in the discipline, student credit hour production, and student enrollments.
16 positions are targeted for elimination in:
Business and Technology: Associate Professor (1) and Assistant Professor (1)
College of Education: Sr. Lecturer (1) and personnel savings
Fine Arts and Humanities: Professor (3), Associate Professor (1), Lecturer (1)
Natural and Social Sciences: Professor (3) and Assistant Professor (4)
Library:Lecturer (1)
Business and Facilities (Operations) Reductions—$829,475
Three positions were identified during the NU budget reduction process and will be funded by the NU system including Campus Architect (1) and Construction Managers (2).
Other positions were identified for elimination based on centrality to UNK's mission and efficiencies and include:  Business Systems Analyst (1), Emergency Management Director (1), Police Officer (1), Grounds Manager (1), Groundskeepers (2), Custodial Leader (1), and Maintenance Planner (1).
UNK will also decommission the campus swimming pool.
Student Affairs Reductions—$44,603
While the bulk of Student Affairs and Residential Life allocations are generated from student fees and federal and grant funding, Student Affairs contributed $44,603 to UNK's savings through position consolidation.
UNK Intercollegiate Athletics Sport Reductions
Questions & Answers
Click below:
http://unknews.unk.edu/2018/02/12/unk-baseball-mens-golf-mens-tennis-to-be-eliminated-in-budget-reduction-plan/