Discussion about a potential co-op between Pender and Emerson-Hubbard took place at Monday night's Pender School Board Meeting. Superintendent Jason Dolliver says Emerson-Hubbard wants to combine in all sports. "On February 28th, Pender was contacted by Emerson-Hubbard Administration requesting a conversation or discussion about a full sports cooperative. And basically what the request was for was for all junior high and high school sports."
The Pirates are low in numbers for Girls Basketball and Volleyball, according to Dolliver. Emerson-Hubbard only had 7 girls finish the 2017-2018 basketball season.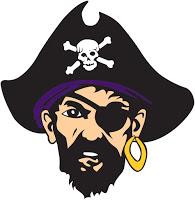 Around 30 people turned out for the meeting. "The community members were mainly asking questions. Wanted to know what would be the advantages and disadvantages in our eyes. What would this do to our school district classification wise on the NSAA side of things. There were specifically a couple of people who spoke that were just not really in favor of it, didn't see the benefit for the Pender school district. And there was some conversation that there was some upside to it as well," Dolliver said.
Dolliver says combining would likely result in the high school teams participating in Class C-2 with the potential to be C-1 in Girls Sports.
Dolliver adds the school wants to do what's best for them before making any sort of decision. "We're doing our homework. We're going to look into the situation, try to determine if it's best for Pender Public Schools, students, staff, and district patrons. And if it is we will continue conversations with Emerson-Hubbard. And if it's not then we will tactfully and respectfully decline that offer."
A special meeting to further discuss the co-op is tentatively planned for Monday, March 26th at 7:00 p.m. in the old Pender Gym.