Around 
7:15
Monday
 evening, intermittent sunshine  returned over flooded portions of Cuming county and northeast Nebraska.
West Point and neighboring towns were finally getting a brief break, but were still in a Flood Warning.
The excessive rain, nearly 8 inches in places, had done its damage:
* Highway 275 was closing around 
6:30 PM
 between West Point and Scribner.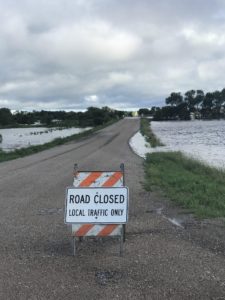 * Residents in Pender struggled to get back to their homes due to flooded roads.
* Emerson, Macy and Sioux City were but a few of the communities under Flash Flood Warnings 
Monday
 afternooon and evening.
* Many area corn and soybean fields resemble ponds and small lakes.
* At 23rd Road and Highway 32 between West Point and Oakland, water covered the crops for nearly a mile north and south of the highway.
There was also a strong current of flood waters running underneath Highway 32.
One area resident wondered aloud if he'd be able to travel Highway 32 in Burt county 
Tuesday
 morning.
The storms continued in the Omaha area 
Monday
 evening, delaying Game One of the College World Series Championship.