Contestants have been announced for the Miss Rodeo Nebraska Pageant, June 10-13 in North Platte. Those vying for the title of Miss Rodeo Nebraska are:
Eva Oliver
Eva Oliver is the 20-year-old daughter of Chuck and Stacie Oliver of Merriman.
She is currently studying veterinary technology at the Nebraska College of Technical Agriculture in Curtis.
While in college, Eva has participated in intramural sports, the ranch horse team, Women in Agriculture, Collegiate Cattlemen and Phi Theta Kappa.
Eva wants to be Miss Rodeo Nebraska so she can represent the sport of rodeo and the principles it was founded on.
"Growing up on a ranch gave me a firsthand look at how rodeo began, how it has evolved over the years and why it is so important to preserve," Eva said. "I want to not only educate students about the passion of rodeo, but also to encourage them to be the best version of themselves – to stand up for what they believe in and to stand out from the crowd."
Lindsay King
Lindsay King, 23, hails from Oakland. She will graduate from Oklahoma State University in Stillwater, Okla. in May.
Her career goal is to focus on telling the stories of agriculture, the western tradition and rodeo. She plans to do that through her writing, her voice and agritourism efforts that encourage open and honest conversations between producers and consumers.
"My life mantra is writing, roping and rodeo," said King. "My goal is to tell the stories that make the industry great and yearn to be heard. I want to be Miss Rodeo Nebraska to take the name and reputation of Nebraska far beyond where it has ever been before."
King is the daughter of Terry and Sally King of Oakland.
Madison Clark
Madison Clark is the 21-year-old daughter of J.R. and Julie Clark of Wellfleet. She is currently attending the University of Wyoming in Laramie, Wyo. where she is majoring in Agricultural Communications.
After she graduates from college in the fall of 2018, Madison plans to attend law school. Her dream is to work for an agricultural lobbying group then eventually return to southwest Nebraska and become a county or district attorney.
Having grown up in a rodeoing family, Madison has been immersed in the sport for as long as she can remember. She has wanted to be Miss Rodeo Nebraska since she was 4.
"I love rodeo and everything that goes into it more than almost anything in the world," Madison said. "My future plans include always being involved in rodeo in some capacity, whether it be as a contestant, queen, committee member, timer or any other type of personnel."
Caitlin Davis
Caitlin Davis, 22, is from Waverly. She is currently attending the University of Nebraska-Lincoln pursuing a degree in Agricultural Leadership Education.
Her dream is to one day have a career organizing agricultural and equine-related events. Davis has already started her own event planning business.
Her purpose in trying out for the Miss Rodeo Nebraska title is to promote the values of tradition, community and service that she believes are at the core of the rodeo industry. Davis also looks forward to the idea of serving as a representative and role model for other women.
"I firmly believe we must be aggressive in growing strong leaders and advocates," Davis said. "Recruiting young women to share their ideas is critical to our future. I believe the queen's crown can be a powerful tool in this endeavor. Seeing a strong, confident, fluent, informed woman passionately advocating for her vocation can only encourage and empower others to do the same."
Davis is the daughter of Matt and Pamela Davis of Waverly.
Miss Teen Rodeo Nebraska
There is also a teen division to the pageant. The contestants competing for the Miss Teen Rodeo Nebraska crown are:
Rebel Sjeklocha
Rebel Sjeklocha, 17, is the daughter of Rusty and Susan Sjeklocha of Hayes Center. She will graduate from Maywood High School in May then attend the University of Nebraska–Lincoln to study Agricultural and Environmental Sciences Communications.
Rebel would like to eventually attend law school and open a law practice in a rural area. Her dream is to help farmers and ranchers pass on their livelihoods to the next generation as well as defend the natural resources that are vital to their operations.
"The key to success is the willingness to learn, grow and stretch outside your comfort zones," Rebel said. "Being crowned Miss Teen Rodeo Nebraska would be a valuable part of my desire to promote and support the agricultural industry and would provide me with the opportunity to help other young women understand the importance of never giving up on goals."
JoSee Saults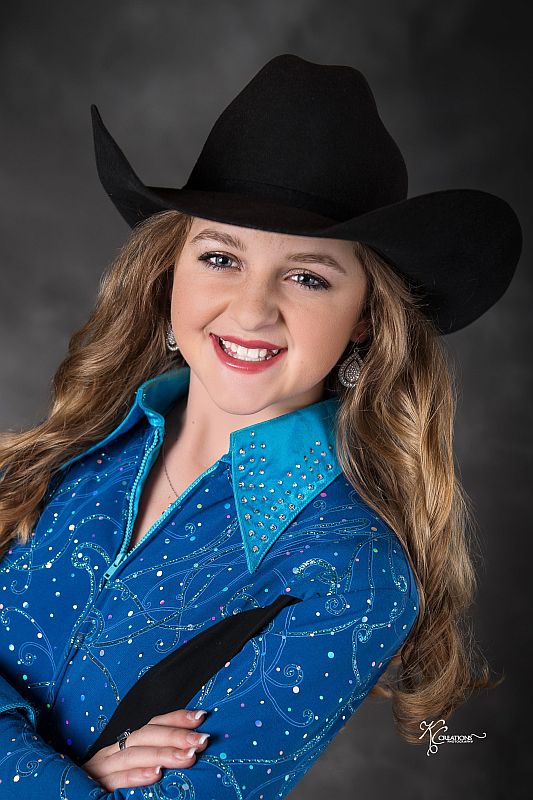 JoSee Saults, 17, is from Big Springs. She is the daughter of Scott and Jill Saults.
JoSee attends South Platte High School and has future plans of attending law school and becoming a criminal lawyer.
If selected as Miss Teen Rodeo Nebraska, JoSee would use the opportunity to promote the sport of rodeo with schoolchildren.
"I would like to implement my CUR Program for grades K-2 and share the book I wrote, 'The ABCs of Rodeo'," JoSee said. "I would also like to use the opportunity to meet as many people as possible. I love meeting new people and making new friends everywhere I go."
Bailey Lehr
Courtesy/ Miss Rodeo Nebraska. Bailey Lehr.
Bailey Lehr, 17, is the daughter of Lance and Joan Lehr of Columbus. She is a junior at Scotus Central High School.
After graduation, Bailey plans to continue her education, first at a community college, then at the University of Nebraska – Lincoln, to obtain a degree in agronomy. Eventually, Bailey would like to be able to use her knowledge as an agronomist to improve her family's farm, other farms and the next generation of farmers.
"My biggest desire is to do as much as I can, as often as I can, for as many as I can," Bailey said. "Representing the state as Miss Teen Rodeo Nebraska would be a huge honor and a once in a lifetime opportunity. I cannot think of anything more rewarding than giving back to the state and sport that has shaped me into the young lady I am today."
More information about the Miss Rodeo Nebraska/Miss Teen Rodeo Nebraska Pageant can be found online at missrodeonebraska.org.