Buckboard Therapeutic Riding Academy moved another step closer to reaching their fundraising goals Tuesday evening, after receiving a check for an unnamed amount from Pampered Chef, and a $20,000 check from the Oregon Trail Community Foundation. The check was presented by OTCF Director Cathy McDaniel and board member Lonnie Miller.
Buckboard founder Kathy Gatch told KNEB News the donation from Pampered Chef's Pam Weldin was from a summertime promotion, and represents the 7th year for their annual donation.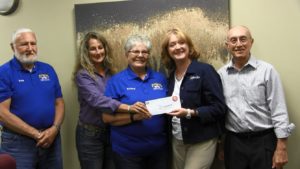 She said the Oregon Trail Community Foundation grant took her by surprise, although it was something they had applied for.
Gatch said she had written the grant several years ago and they kept it open, but she just reported where they were each year.
Gatch said instead of the $5,000 a year over four years the grant was written for, Oregon Trail Community Foundation gave them the entire $20,000 in one check.
Gatch said the donations from Wednesday night would go into their building fund, and brings them closer to their goal as construction on their new indoor arena continues on donated land south of Gering.