YORK – A three vehicle accident including two semis on Highway 81 south of the York Interstate 80 exit Wednesday, has sent one person to the hospital with serious injuries.
Shortly after 1:30 p.m. authorities arrived to the west ditch on Hwy 81 across from Petro where two semis collided.
York Fire and Rescue Chief, Kevin Stuhr was at the scene…
A witness said, a northbound Buick on Hwy 81 was stopped at the Petro intersection at a red stop light when a tanker semi failed to stop and collided with the back right side of the Buick, causing the semi to lose control and cross the median into oncoming traffic where it collided with a southbound semi hauling produce.
One person was transported by York Fire and Rescue with what are believed to be serious injuries. Stuhr said another person may have sustained minor injuries.
The York Police Department, York County Sheriff's Office and Nebraska State Patrol all responded.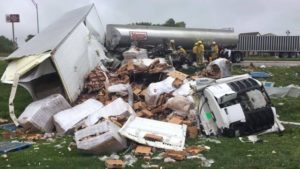 The accident is currently under investigation and more details will be released when available.
A video of the scene is below.