YORK – More information has been released on a three vehicle accident south of York that closed a portion of Highway 81 for hours and sent two drivers to the hospital Wednesday afternoon.
York Police Chief Donald Klug said his department was dispatched to the wreck shortly after 1:30 p.m. where two semis blocked off southbound Hwy 81 traffic after a a three vehicle collision where the semis came to rest in the west ditch across the parking lot of Petro.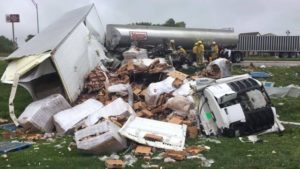 Klug said a Wynne semi northbound on Hwy 81 driven by 66-year-old David Argent of Cairo struck the rear of a car stopped at a red light at the Petro intersection driven by 74-year-old Elinor Brown and her passenger Jerry Brown both of Seymour, Indiana. Argent's semi then crossed the median and crashed into a southbound semi driven by 43-year-old Gurmeet Singh of Pino, California.
Klug said the authorities are still determining what caused the accident…
Argent and Singh were both transported to York General by York Fire and Rescue. Argent was later transported a Lincoln hospital. Argent's son said his father is in stable condition, but remains in the ICU. Klug said injuries to both Argent and Singh are believed to be non-life-threatening. Elinor was treated at the scene and released. Jerry received no injuries.
Klug said at this time no citations will be issued.
The York County Sheriff's Office and Nebraska State Patrol assisted at the scene.
A video of the scene is below.