A Town Hall Meeting was held at Heese Event Center in Pender Monday night to further discuss the potential full sports co-op between Pender and Emerson-Hubbard. Pender Superintendent Jason Dolliver says there were a lot of concerns expressed by the district's patrons. "There were things that I had not thought about that were brought to the table. And that's exactly what we were hoping to get. What are we not thinking about, what ideas and thoughts are out there that we can use to help us as we go down this path."
A couple of concerns expressed by Pender Softball Representative Samantha Johnson included gym seating at Emerson-Hubbard, and how their gym would accomodate large crowds when the team would face larger schools, and what the co-op would mean for Pender's Softball Co-op with Wisner-Pilger and BRLD. A softball co-op between Emerson-Hubbard, Pender, BRLD, and Wisner-Pilger is not possible due to an NSAA rule that a maximum of four school districts can be involved in a co-op.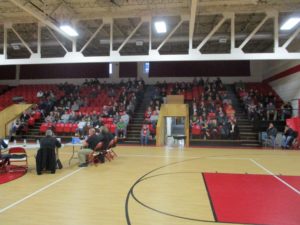 Timing was another issue brought up. Dolliver says the two schools can't combine in high school football the next two years as that deadline has already passed. "Fast forward to November 15th and we get correspondence from Emerson-Hubbard, we'd like to talk about a cooperative, it's November 15, 2017. I mentioned the November 1st football deadline that was literally two weeks after the football deadline. So I will tell you my immediate reaction was this is two weeks after the deadline. We needed to have this conversation before now."
The majority of Pender students are against the co-op as 78% of 7-11 graders that participate in activities aren't for it, and 83% of next year's high school students were also against it.
Emerson-Hubbard Superintendent Lindsey Burback says the school district contacted Pender about the co-op after Allen turned them down. "We had some discussion among our board members, and we thought that in all fairness to everybody's opinions we needed to explore all avenues before we narrowed it down. We did originally vote to try to form a co-op with Allen, and they rejected our offer. At that time we collected more data through community surveys, and just talking to the community members at our board meeting. And at that point we realized there was such a strong favor towards Pender that we came back."
Emerson-Hubbard also looked into co-ops with Wakefield and Homer.
Burback says they want it to be an even co-op. "Equal does not always mean 50/50, but when accessible we would like it to be equal. Games…same thing…equal when accessible. Mascot…we understand and we know that the Pendragons is the only one in the United States. And it is a big deal. And so it is something that we will talk about, and very negotiable from our standpoint."
Burback says that also includes equal representation from both schools for coaches.
Burback adds Emerson-Hubbard desperately need to combine. "We are in need. We are to the point where with our enrollment numbers we cannot support junior high football, junior high boys basketball, high school volleyball, or high school basketball as Emerson-Hubbard alone next year."
At the high school level, Emerson-Hubbard is only projected to have 4 girls out for Volleyball and 2 out for Girls Basketball.
The two schools have already established a relationship when it comes to co-oping and potentially co-oping. Dolliver says the school district reached out to Emerson-Hubbard about football not too long ago. "Pender identified a high school football need probably 2-3 years ago. We could see the numbers coming were low, our boy numbers period. And then the number of participants was low. And so it was a communication between Pender's Board, Emerson's Board about football that wasn't able to be something that we could work out. And that was a challenge, and that's something that as I'm just going to be honest it stuck with us. It's hey we need something, and we weren't able to link up on that for whatever the reason. It is what it is, but it sheds light on the situation that we're in right now, trying to decide what we're going to do moving forward."
The two schools have been involved in a baseball co-op with Bancroft-Rosalie for the past several years, and Lyons-Decatur just recently, and have recently co-oped in junior high sports and high school track since 2014-2015.
Dolliver says the proposed co-op will be an agenda item at April's School Board Meeting. "It'll be an action item. Whether or not the Pender Board of Education takes action on that I don't know. But they will discuss it, they'll talk about what they heard tonight. We'll talk about the survey results that we hopefully will have by then. And if we can make a decision in April we will. I don't think that that's possible, and there's just a lot of things that we have to uncover, we have to map out so that we can figure out if it's right for us."
Dolliver says the district has a survey that can be accessed on their website through a QR Code, or by picking up a paper copy at the school.
Click here to listen to Interview with Dolliver 
Click here to listen to Interview with Burback